Idea, set and costume design, music editing: Olga Pona
Choreography: Denis Chernyshov, Dmitry Chegodar, Rafael Timerbakov, Vladislav Morozov, Vladimir Vdovenko, Olga Pona
Dancers: Vladislav Morozov, Rafael Timerbakov, Dennis Chernyshov, Dmitry Chegodar
Music: Sonic Landscape, Arcaik, Arnalds
Light: Alexander Skrishnik
Costumes made by: Tamara Kilmetova
Set construction: Igor Prokopiev, Artem Sushchenko, Tatyana Sushchenko, Nikolai Panafidin
Duration: 40 Min.
• Nominated for Golden Mask 2019
• Denis Chernyshov , Dmitry Chegodar , Rafael Timerbakov , Vladislav Morozov , Olga Pona nominated as choreographers
• Alexander Skrishnik nominated for light design
Premiere: Theater for Young Audience, Chelyabinsk, 20 November 2017.
We don't know who they are, these mysterious characters existing in isolation in cubical offices, where one only notices the rustling of a pen on paper. Are they writers? Composers? Scientists? Are they botanists? Or are they just people who have withdrawn from the outside world and are immersed in a world of their own, invented, drawn on cardboard. Will a person, who came in from the street, be able to return them to reality?
This production was made with financial support of the Mikhail Prokhorov Foundation
Photos: DanceArt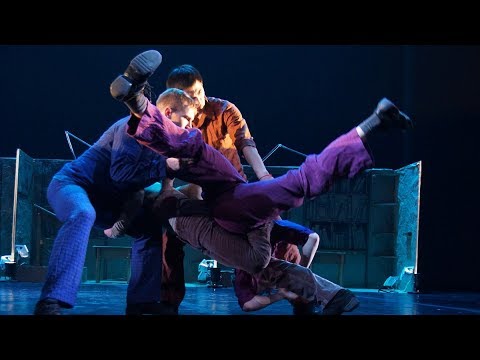 VIDEO